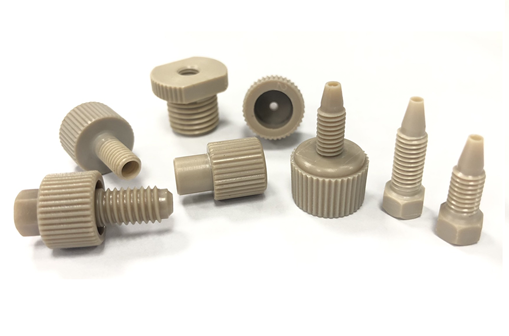 Introduction
Finger-tight fitting is knurled that can be easily connected to capillaries and tighten without tools. The PEEK made fittings resist many kinds of chemical solvents, high temperature environment up to 240℃, hydrolysis, steam, leakage in high-low pressure, and are biocompatible for liquid transfer applications in lab equipment. Apart from that, the fittings perform strong strength, low friction, and self-lubricant that allow longer service life. PCTFE made fittings can be another choice for harsher environments from temp. -200 to 200℃.
Material Available
PEEK is a semi-crystalline engineering plastic with long-term use temperature at 240℃, suitable for applications that used in high temperature and chemical solvent process. PEEK material is tough, rigid, creep-resistant, light-resistant, and multi-ray resistant. Screws, nuts, and various spare parts made of this material are widely used in semiconductor equipment, aerospace vehicle industry, automotive electronics and motor industry, oil/gas extraction equipment and even medical equipment or food production equipment.
PCTFE is a fluoropolymer with long-term use temperature at -200~200℃, chemical resistant, low permeability, and weather resistant which is widely used in parts for semiconductor process equipment and medical device.
Specification

Application:




Application: connected

to capillaries
※Custom grades in specific materials and colors are available upon request.