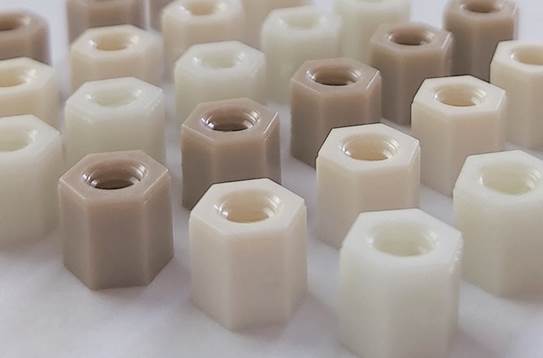 Product Introduction
Hexagon Threaded Spacer, also named Standoff which is an internal threaded component in hexagon shape and is available in engineering plastics like PEEK, PPS, and RENY. At the stage internal threaded in both ends is available which is also known as Female-Female in the category. Other types in Male-Male, Female-Male can be developed upon requested.
Materials Available
PEEK suitable for applications that used in high temperature up to 260℃, chemical solvent process. PEEK material is tough, rigid, creep-resistant, light-resistant, and multi-ray resistant. PEEK-made parts are widely used in semiconductor equipment, aerospace, vehicle industry, automotive electronics and motor industry.
PPS featuring high temperature resistance reach 200℃, corrosion resistance and high mechanical strength which allows PPS-made parts suitable for electronic and electrical parts, auto parts, and chemical machinery parts.
RENY a high-temperature resistant nylon at 105℃, added with glass fiber to increase strength, excellent oil resistance and high-temperature resistance. Parts made by RENY are widely used in automobiles, machinery, precision mechanical parts, electrical and electronic equipment, as well as in civil engineering.
Types / Application